[fa icon="plus-square"]
Can we bring a guest?
Yes, every HubSpot President's Club inductee can invite one guest to join them in Barcelona. Keep in mind bed preferences (Queen/King vs. 2 Singles) are not guaranteed but can be requested.
**Please note that if your spouse or guest is also a President's Club qualifier, the expectation is that you would attend the trip together (rather than bringing guests).

[fa icon="plus-square"]
When must we RSVP by?
All RSVP's must be received by February 1, 2019. The first set of invites will go out mid November this year.
After February 1st no changes to your activity selections can be made.
All flights must be booked by February 6th.
[fa icon="plus-square"]
Are children invited?
All are invited to bring your children at your own cost. Keep in mind that hotel rooms in Barcelona are extremely small. Bedding options are only a queen bed or two twin beds. We have a limited number of Executive Rooms in which we can add a baby crib (under 3) or child bed (up to 7 years old). Plus there is also a couch in the Executive Room that has a small sleeper sofa for one or two children up to 12 years old. Max 2 adults and 2 children per Executive Room. The Deluxe Rooms can only fit one baby crib.
Keep in mind there are a limited number of the Executive Rooms on property so they will be given out to families who RSVP first. Unfortunately if your child is over 12 years old then a second room would be required and would need to be covered by you. This second room would be based on availability.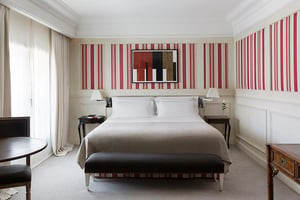 In Special Requests of your RSVP please include that you will be bringing a child and the age.
Please see full Presidents Club Family Policy below:
HubSpot Presidents Club Family Policy
When you qualify for PC, you earn the right to attend, along with 1 guest, paid for by HubSpot (this means during PC-sponsored events only, which the Organizers will specify each year).
However, over the years, we've learned that HubSpotters are proud of their accomplishments, and want to share their success with their families.
That said, we'd like to provide you with the following guidelines, if you choose to bring your children to the event:
Travel
HubSpot will cover the cost of the qualifying HubSpotter, along with the cost of one chosen guest's flight. Flights for any additional guest (children included) are the responsibility of the qualifying HubSpotter.

If your child is young enough to require a car seat, we recommend bringing your own. HubSpot will not be responsible for providing or paying for car seats. You will also need to organize your own transfers, as the group bus transfers are not car seat safety approved.
Accommodations
HubSpot will pay for the contracted dates of stay for the qualifying HubSpotter, along with the chosen guest. HubSpot will not pay for a second room, nor will they pay for additional nights before or after the contracted PC dates. If there is a fee for additional guests per room, HubSpot will cover up to $50 per child per night. Please note, this will not apply if the PC event is held at an all-inclusive resort- then, it will be the responsibility of the qualifying HubSpotter. HubSpot will not cover $50 per child towards a second room.
Food & Beverage
HubSpot will pay for food costs of children at the Welcome Party, and the Final Dinner (if child is old enough to attend, age 16+).
Activities
HubSpot will pay for the activity of choice for the qualifying HubSpotter and one chosen guest. Any additional activities for children will be the responsibility of the qualifying HubSpotter, assuming the activity is suitable for the child's age and that there is enough space to accommodate the request. Please note that qualifying HubSpotters will be allowed rights to activities before children.
Childcare
Childcare will be the responsibility of the qualifying HubSpotter, whether it be childcare onsite at the hotel, or babysitting services.
Attending PC Events
Children are welcome at the Welcome Reception, and children 16+ are welcome to attend the Final Awards Dinner.
[fa icon="plus-square"]
What are my flight details?
This year all flights are required to be booked through our President's Club Travel Agency. Any flights booked outside of the process and the agency below will not be reimbursed. All flights must be booked by Feb 6th!
Please complete the link below and an events manager from Colpitts will reach out to help get your flight booked. There are flight budgets set for each region and the event manager will work hard to find the best possible flight at a cost within the group budget. All flights booked within the appropriate budgets will be covered directly by HubSpot.
For those looking to fly on a specific airline or to add a destination to your itinerary you are able to pay the difference between the flight offered and the total cost of your preferred itinerary. Colpitts will split your ticket for you and charge HubSpot one portion and can charge your credit card for the remaining portion. A small fee does apply. Keep in mind if you bring a guest from a different location their flight budget is the same as yours. If their flight exceeds your location budget, you can pay the difference through Colpitts.
Given all flights will be booked by Colpitts there is no need to forward you individual flight reservations.
*Baggage fees will not be covered for pre or post extensions to alternate countries. On your flights to and from Spain, HubSpot will cover up to a total $120 of checked bag fees per couple.
IMPORTANT: Use the below links to validate travel requirements for your upcoming international travel.

To verify required Visa's, Passport validity dates, and blank page requirements please visit CIBT: www.cibtvisas.com/dt.

Information regarding travel health alerts: https://wwwnc.cdc.gov/travel/destinations/list/

Registration with the US Department of State for frequent international travel: https://step.state.gov/step/
US State Department: https://travel.state.gov

For US Embassy address and phone numbers, use the below link(s):
United States Embassy Location for the Spain: http://es.usembassy.gov/
[fa icon="plus-square"]
Can I come early or extend my trip?
All HubSpotters are able to extend at their own cost, but any and all additional hotel costs, airport transfers, and flight difference will be your responsibility.
We have a handful of rooms for pre and post extensions for those looking to stay at the Majestic Hotel in Barcelona. These rooms are first come, first serve, and will be your responsibility to cover. Please request extensions on the RSVP form.
If you are staying at an alternate hotel, you are responsible for your own transport. Please do not expense this.
Each night, the discounted HubSpot rate at the Majestic is 299 EURO plus 10% VAT per night. Breakfast is included in this rate for 2 guests.
[fa icon="plus-square"]
Can I book my own airport to hotel ground transportation in Barcelona?
We are providing group transport to/from airport in Barcelona if you are traveling on group dates (April 8-12 for US, APAC teams, April 9-12 for EMEA Team). If you would like to opt out from group transfers, please include this on your registration form (there is a required drop-down option)!
Those who are arriving early or extending after are responsible for their own transfers.
For those taking care of your own transfers, upon exiting the airport, you can easily grab a taxi to the hotel, just be prepared for long taxi lines. You may expense up to (€35) $40 taxi cost with a receipt (no black car service or private transfers) per way to/from Majestic to the airport. Please note, traditional ride sharing (Uber, etc) is not available in Barcelona.
[fa icon="plus-square"]
Will HubSpot cover my cell phone roaming fees?
At the Majestic Hotel, we have negotiated free wi-fi throughout the hotel for you to conduct business. We ask you to use good judgement in expensing cell phone roaming bills.
[fa icon="plus-square"]
Is this hotel all-inclusive?
The hotel is NOT all-inclusive. Breakfast is included each morning from 7am-11am, so we recommend guests eat breakfast at the hotel. It is an impressive spread. Keep in mind that from 9:45am-10:45am it will be busy as we are a large group taking up most of the hotel.
You will be provided a stipend in your paycheck two weeks before the trip to help cover any additional meals. Due to Spanish banking laws, no Euros will be handed out on site in Barcelona. Using your ATM in Barcelona is a great solution for obtaining EUROs at a good rate, just remember to let your bank know you are traveling. You will also find that almost all places including taxis take credit cards in Barcelona (just confirm before you get in).
[fa icon="plus-square"]
Do we need to bring adapters to charge our electronics?
For those traveling from US, Sydney, Singapore and Tokyo you will need to bring your own adapters. Dublin and Berlin will not need adapters.
Our travel team will also have a few backup chargers for those in need!
Converters: Spain has 220 volt electricity, meaning unless your computer or appliance is dual voltage or designed for 220 volts, you will need a converter/adapter. Most common electronics are dual voltage (laptops, smartphones, etc) but most hair dryers, electric shavers, and straightening irons are not. Also note some older cameras are not dual voltage. Non-European travelers will need to use an adapter to plug in American-style plugs (two flat prongs) into European outlets (which take two round prongs).
[fa icon="plus-square"]
What do I need to pack? Can I expense checked luggage?
The weather in Barcelona in April averages a high of 67°F and low of 52°F. Please pack accordingly.
At night the weather does cool down so a coat, shawl or fleece is recommend.
Yes, all attendees can expense up to $120 per couple for this club trip to help defray the cost of checking luggage. We recommend all guests check-in to their flights online and pre-purchase luggage.
[fa icon="plus-square"]
Do I need a passport? or Visa?
Yes, all guests from outside Europe, need a valid passport that does not expire for at least 6 months AFTER the trip.
Visas are not required for anyone holding a passport from the countries of HubSpot's 6 office locations.
If you or your guest carry a passport from outside the country of your HubSpot office, it is your responsibility to research and obtain the appropriate Visa if needed. We are able to assist in providing any documentation required.
[fa icon="plus-square"]
What if I want to participate in two activities?
Unfortunately, due to the busy itinerary, we are unable to meet requests for two activities.
[fa icon="plus-square"]
Will our medical insurance work in Barcelona?
Please see the HubSpot business travel medical eligibility below as it pertains to President's club travel for employees and your guest. Also please check out this document for more information on what is covered while traveling for President's Club.

[fa icon="plus-square"]
I am unable to attend the trip, what do I do?
If you were awesome in 2018 and earned a spot at President's Club but are unable to attend this year's trip to Barcelona for any reason, please let us know ASAP and we will provide you with net $2,000 USD (or your local currency equivalent), deposited directly into your bank account.
* You will still receive your crystal award, but no additional gifts.
Please note that your spot will not be given to anyone in your place, and we'll need to know your intentions by February 1st. Unfortunately, if you notify us of any changes after February 1st, you will loose eligibility for the monetary reward since deposits will have already been made on your behalf.
[fa icon="plus-square"]
If the itinerary changes, how will I stay updated?
There will be three options.
1. All updates and changes will be communciated to you through email in a timely manner. This means you should be using the hotel wi-fi once a day to check for any updates or special events added.
2. We will have a daily HubSpot headquarters located on property at Majestic Hotel. There will be a staff on hand to answer any questions from 10am-6pm each day. Locations will be shared on this website once finalized.
3. This year we will provide an app with personalized itineraries. All changes will be sent via push notifications so please remember to allow notifications from Travefy.