Adventure
For those looking for an adventure activity there are two options that are guaranteed to provide a lasting memory.
Activities Offered:
Swim with Dolphins (Thursday): The Buggy Ride program offers an exciting way of learning and interacting with the dolphins. During this program, the first 10 minutes prior to entering the water is dedicated to an orientation about dolphins. The remaining 45 minutes will be in the water with two dolphins per small group. In addition to viewing acrobatics from within the water, visitors are allowed to perform various activities with the dolphin including one dolphin kiss. Dolphin activities; dolphin kiss, dolphin hug, hand shake, and the belly ride with buggy. This activity is located only 15 minutes away from the hotel and we will be providing private transfers.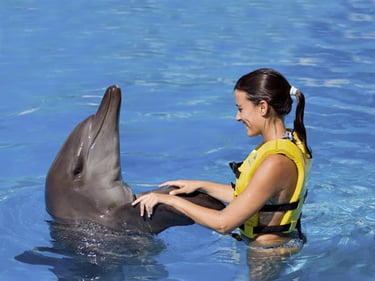 AquaTwister & Mangrove Tour & Snorkeling Experience (Thursday 11am): This tour will make you enjoy the speed of life over the Nichupte Lagoon and through mangrove channels with our vessel especially designed for two people (Aquaray). Discover the second largest reef barrier in the world and enjoy a refreshing and calm snorkel trip (30 minutes snorkeling or just relaxing in the crystal clear water). Aquatwister is excitement is guaranteed! Sitting comfortably and with special security belts, you will experience incredible 360-degree turns at high speed, let yourself get caught with its unrivaled braking power. This activity is located a 10-15 minute walk from hotel and lasts 2.5 hours (you will need to check-in 15 minutes before our start time). The first 30 minutes is the Aquatwister boat ride followed by 40 minutes on your small individual boat (2 people per boat) to the ocean reef. Here you will snorkel for approximately 30 minutes then it takes ~30 minutes to get back to the dock on your small boat.